KUMASI PROJECT - FUTURE FOR YOUTH

Boy from Kumasi: "When I'm older, I want to be a mechanic and build cool cars."
Project Initiative
Head of Project: Steward Amoore
Project Associates: Rumjana Bukowsky;
Project Partners: Kofi Achampong (Chief in Goaso), Kofi Boama (Berlin), Akua Nyarko (Berlin)
Background:
Since 1991, I, Steward Amoore, have been living in Germany, since 2001 as the owner of an African arts and crafts shop in Berlin. I am a carpenter and mechanic by training. In addition to keeping the shop, I am active in traditional African dance and Limbo dance. I was born in 1965 in Tema and grew up in Kumasi.
After having lived for 18 years in Germany, I became more and more aware of my own roots in Ghana.
Driven by this longing as well as by the general question of the sense of my life and of my life here in Germany in particular, I asked myself some questions: In what way might my experiences I have gained here in Germany be useful? How can I accomplish my aim of returning to Ghana one day? Is there anything I have that I can give to my people?
I decided to find out about the answers to these questions in my next visit to Ghana, which took place in November 2008.
On arrival in Ghana, I was positively surprised by the many improvements visible in the country since the time I had left. I could see the noticeable potential of young people, unfortunately though their talents not being sufficiently supported yet. There are little opportunities of a profound vocational education in Ghana, and thus young people have little prospects for their future within the country. Thus their worries and their fears about their future. On the other hand, there is a great need of professionals, especially in the fields of services and recycling.
Having perceived all this, I began to develop the idea of my project.
I will personally take action for my country and its future and do something for its children and adolescents. For this cause, I will appreciate help of any kind.
Ghana has a long tradition in craftsmanship, and therefore the level of interest and talent within the population is of a high standard. It is my aim to strengthen and to further develop this strong point. In Africa, it is possible to achieve a lot with little means.
During my stay, I did comprehensive field studies regarding my plans, and I interviewed people about their current situation and about their dreams and desires for their future, and I understood more and more how little perspective for a better future they have within the country. Often, the very basic tools are missing, like for example electric screwdrivers with a fuse for an electrician, or screw-wrenches for a mechanic, electric drills as well as crosstip screwdrivers and bits (crosstip screws are a European invention, but unfortunately the fitting tools are not included in the deliveries).
The mentioned are simple tools, nowadays as a standard equipment in every European household but missing and urgently needed by professionals in Ghana in order to pursue their profession.
It is only thanks to their creativity and talent that quite a few of them manage to gain their living under these difficult circumstances. To pass on their knowledge about their professions under these circumstances is even more problematic for them, if not impossible. This leads to a lack of solid education for Ghana's youth in many professional fields.
This is one of the reasons why many of them don't see a future for themselves within their country and try to "escape" to Europe or to the Western world. Many don't see any sense in taking responsibility for themselves and for their country because they never learned to do so (environmental pollution, waste disposal management, etc.)
It is the aim of my project to improve the prospects for a better future of my own country's youth.
Rumjana Bukowsky's profession is special education, and she is enthusiastic about the idea of creating future through education. She will contribute to the project by means of her experiences in the special and primary education sector as well as by her experiences in the professional training of youngsters. It is her strong wish to share and to broaden her experiences with the people in Ghana. Moreover, she is planning on developing a solid pedagogic concept together with the Ghanaian instructors. But also her personal and private ties to Ghana are reasons for her commitment to the project.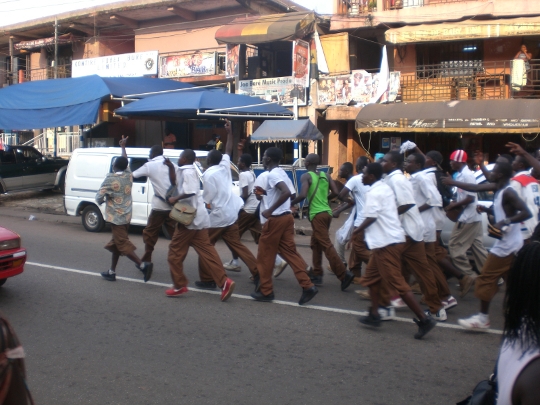 Students protesting in Kumasi in November 2008:
"We want to acquire skills that will help us in our professional life later on."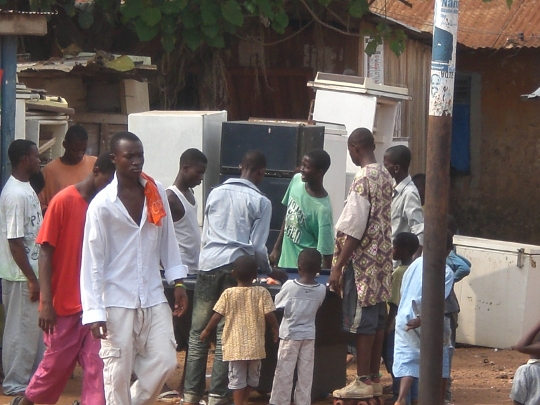 Young people playing billiards: "We're just killing time."
PROJECT IDEA
Educational project in Kumasi and Goaso
Handicraft school for socially disadvantaged youths and young adults (orphans, street children, handicapped persons, persons without school education, girls and young women)
Formation in traditional handicraft trades
Creation of apprenticeship places and jobs
Involving the future students in the construction process of the school building
Low-threshold project approach; encouraging self-responsibility and the willingness to get involved
Qualification courses for educational staff (local instructors)
Project Goals
Create future perspectives for young people in their home country (Ghana) by:
A qualified professional formation
Creating awareness for the issues of environment, environmental pollution, natural resources and raw materials
Creating awareness of development opportunities within the own country
Fields of Education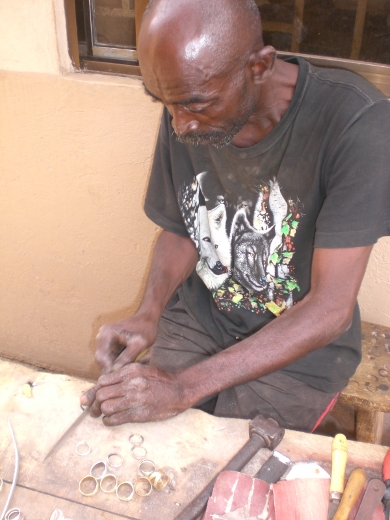 Joe is making his living as a goldsmith in Kumasi. With the necessary tools,
he will be able to pass on his traditional
trade to the students of the neighbouring school.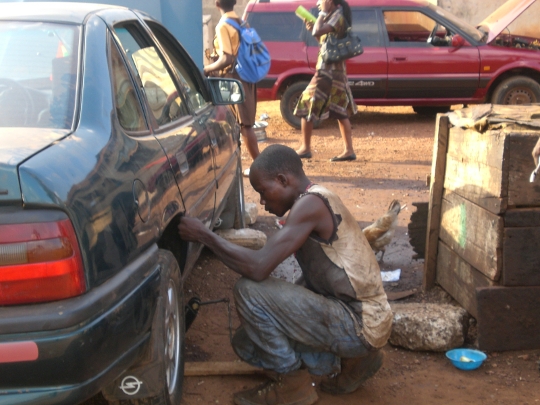 This young mechanic from Kumasi is changing the tires with his bare hands
and a screwdriver. Being supplied with the necessary tools,
also he will be able to pass on his trade.
Professional formation in the following handicraft trades:
Blacksmith
Carpenter
Mechanic
Tailor
Project plan
Creating a concept of the entire project
Finding the site on which to build the school (close to nature, outside Kumasi's city centre) - Currently we have one offer in Goaso, about 80kms from Kumasi.
Creating a finance plan
Finding sponsors and project partners (e.g. a German educational centre, inquiry at bbw Berlin)
Creating an educational concept
Finding instructors
Take in the future students to participate in the different stages of project planning
Time schedule
Time
Stage
Activities
December 2009
- March 2010
Stage 1
Creating the project concept
Meeting of the project team
Creating a written concept
Finding sponsors and project partners
Collecting tools and machines
April 2010
- August 2010
PStage 2
Publicity and fundraising
Information events
Charity concert
Creating a website
September 2010
Stage 3
Shipping of the donated goods
Organizing and shipping the donated goods
(truckage company, packing, etc.)
October 2010
- January 2011
Stage 4
Trip to Ghana
Receipt of the shipped goods at the port in Tema and transport to Kumasi
Finding local project partners
(local NGOs, King, Government)
Instructors
Target group (interviews)
Building site
January 2011
- May 2011
Stage 5
Creating an educational concept
Creating a concept (different stages and contents of the professional formation courses / content of teaching, content of learning)
June 2011
- December 2011
Stage 6
Construction of the school
Construction planning (construction permit)
Building and construction by the help of future students and project partners
September 2012
Stage 7
Start of the education programmes
The school year in Ghana starting in September, we'll do a testing phase in the run-up.